Il gruppo organizzatore ICOM/ICAMT-POLIMI
Luca Basso Peressut
Giuliana Ricci
Mariella Brenna
Marcella Ricci
Maria Pietrogrande
The International Institute for the Conservation of Historic and Artistic Works -IIC  announces that the 2016 IIC Los Angeles Congress will host its fourth Student Poster Session, which will give students and recent graduates the opportunity to communicate their projects in a special section of the congress poster display. The aim of this session is to provide a peer-reviewed platform for research and work on conservation projects being undertaken by students and recent graduates. This is an opportunity for those who are starting out in the conservation field to take part in conservation's international showcase.
Current students and recent graduates are invited to submit proposals for inclusion at the 26th IIC Congress. Proposals can be on any topic and are not required to follow the conference theme.
A provisional title and a 300-500 word summary of the content and at least one image is required by 15 January 2016. All submissions must be in English. The choice of posters for display will be made by 11 March 2016 and final texts/images will be required by 1 July 2016. Abstracts should be submitted to: students@iiconservation.org
For more information on the 26th IIC Congress, please visit www.iiconservation.org/congress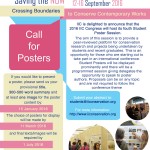 È possibile iscriversi fino al 15 Aprile 2015  alla seconda edizione del Premio Europeo per Interventi sul Patrimonio Architettonico AADIPA, attraverso la piattaforma web:
www.eu-architecturalheritage.org
Il Premio è un concorso biennale organizzato con il supporto del COAC (Collegio Ufficiale degli Architetti della Catalogna) e AADIPA (Associazione degli Architetti per la Difesa e l'Intervento sul Patrimonio Architettonico) il cui obiettivo è far emergere le buone pratiche applicate al patrimonio costruito,  strumento fondamentale di conoscenza e risorsa socio-economica di rilievo per lo sviluppo sostenibile del territorio, nonché contribuire alla loro divulgazione.
L'invito è rivolto a tutti gli esperti coinvolti nel campo interdisciplinare del patrimonio costruito – architetti, storici, archeologi – e ammette alla selezione contributi realizzati nell'area geografica europea tra il 2008 e il 2014, riconducibili a una delle seguenti 4 categorie:
Interventi sul patrimonio costruito
Spazi aperti
Pianificazione
Divulgazione
La cerimonia di premiazione si terrà nel mese di giugno 2015 a Barcellona, nell'ambito della Biennale Internazionale del patrimonio architettonico, organizzata con il supporto del COAC, dell'AADIPA e del Governo della Catalogna.